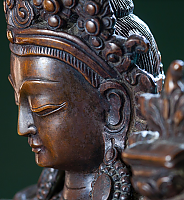 A Flash of Lightning in the Dark of Night
A Flash of Lightning in the Dark of Night
Group Recitation of "The Way of the Bodhisattva" by Shantideva
When: Saturday, March 28, 1-5 PM
"If I have any understanding of compassion and the practice of the bodhisattva path, it is entirely on the basis of this text that I possess it." H.H. The Dalai Lama
We will alternate chanting through Shantideva's text with walking meditation practice, and to close, enjoy a potluck tea.
Everyone is invited. Please feel free to join in for all or part.
We'll be using "The Way of the Bodhisattva," Revised Edition, 2006, translated by the Padmakara Translation Group, from Shambhala Publications.
We will have a few copies of the text to share; but please bring a copy if you have one.