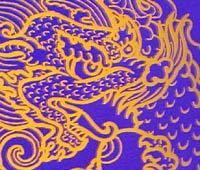 Part IV - Skillful Dragon: Lojong and Compassionate Engagement
Come to one or all. After the 5:30 sitting hour and snack break. No charge, donations appreciated!
Summary for the whole course and the week by week schedule below.
The spiritual path does not lead to non-activity and withdrawing from the world. In the Shambhala tradition, the master warrior is profoundly engaged.
He or she can rest in space, but doesn't hold on to that experience…
Rather, the increased relaxation and openness allow the warrior to manifest and respond in a way that is skillful and wise, completely in touch with what is going on.
This last section of the course will explore the teachings on Lojong, Atisha's famous mind-training slogans, that invite us to utilize the difficulties and problems we encounter to deepen our path. Rather than seeing the unwanted aspects of life as obstacles, they can be viewed as the raw material necessary for awakening genuine uncontrived compassion, for ourselves and others.
Awakening the Heart of Compassion: An Introduction to Lojong and the Four Reminders with Acharya Gaylon Ferguson
Jan 14 Video / Jan 21 Facilitated Discussion
Empty Heart: Absolute Bodhicitta Slogans with Acharya John Rockwell
Jan 28 Video / Feb 4 Facilitated Discussion
Generating Compassion, Touching the Suffering of the World (Relative Slogans Part I) with Acharya Holly Gayley
Feb 11 Video / Feb 18 Facilitated Discussion
Cultivating the Resilient Heart of the Warrior with Acharya Fleet Maull
Feb 25 Video / Mar 3 Facilitated Discussion
Bodhicitta in Everyday Life with Acharya Susan Skjei
Mar 10 Video / Mar 17 Facilitated Discussion
The Vow of the Bodhisattva Warrior: the Radical Wisdom of an Open Heart (Summary of the Year) with Acharya Susan Chapman
Mar 24 Video / Mar 31 Facilitated Discussion