COVID-19 and the Virtual Meditation Center
We have moved out of our space at the COVER building, and are transitioning to virtual teaching. See our blog post below.
Spark your heart and mind through the practice of meditation.
Shambhala Vision is rooted in the principle that every human being has a fundamental nature of basic goodness. This nature can be developed in daily life so that it radiates out to family, friends, community and society.
Shambhala is an international community of urban meditation and rural retreat centers founded by the Vidyadhara Chögyam Trungpa Rinpoche, and now led by Sakyong Mipham Rinpoche. Learn about our vision, lineage & community. More →
Our center offers a rich array of ongoing offerings free to the public including weekly public sitting meditation hours and dharma talks. No prior meditation experience required to attend.  All are welcome. More →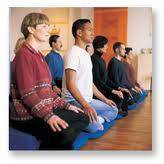 with Shastri Donna Williams
May 9th—July 18th
This discussion group is closed now to new participants.
Continue »
Dear Friends of the White River Shambhala Center, and of Shambhala Centers across the Planet, The White River Shambhala Center is leaving our long-loved space.  We are becoming disembodied, entering the bardo, losing our home, closing — and yet perhaps opening at the same time. That's how … Continue →